Auseklis Ozols is the President of the Ozols Collection as well as Founder of the New Orleans Academy of Fine Arts where he lead as Director, Chief Curator, and Senior Instructor from 1978-2020. He retired from the Academy in 2020 amidst much controversy regarding the future and preservation of the Academy's mission. As archives, documents, drawings and paintings dating back to the 1950's had to be packed and moved during the coronavirus pandemic- the collection was born. Ozols founded the New Orleans Academy of Fine Arts in 1978 based on the model of the earliest American Museum and Art Academy, the Pennsylvania Academy of Fine Arts. He has worked and taught in New Orleans for over 50 years.  Ozols received a BFA from the University of  Pennsylvania, attended the historic PAFA studio program where he trained under Walter Stuemfig, and received an MFA from Temple University. His work is represented in public and private collections internationally. He has received numerous awards and significant professional recognition. 
In New Orleans, Auseklis Ozols has received the Delgado Award from the New Orleans Museum of Art, the Strength in Age Award, and the Community Arts Award from the Arts Council of New Orleans. He is a highly sought after portraitist, still life, and landscape painter; with work throughout the Gulf South including the Louisiana Govornor's Mansion in Baton Rouge. He is also the author of three Rex Proclomations and has paintings in the permanent collections of the New Orleans Museum of Art, The New Jersey State Museum, and the Latvian Museum of Art in Riga, Latvia where he was born. Ozols is inspired by the beauty that surrounds him and continues to paint the colorful flora and majestic live oaks of Louisiana with unmatched technique, enthusiasm, and flair. For more information and a detailed bibliography as well as in progress catalogue raisonne please see below.  To view recent and available work from Ozols' studio please visit https://auseklisozols.com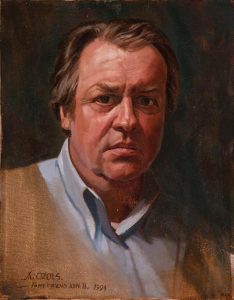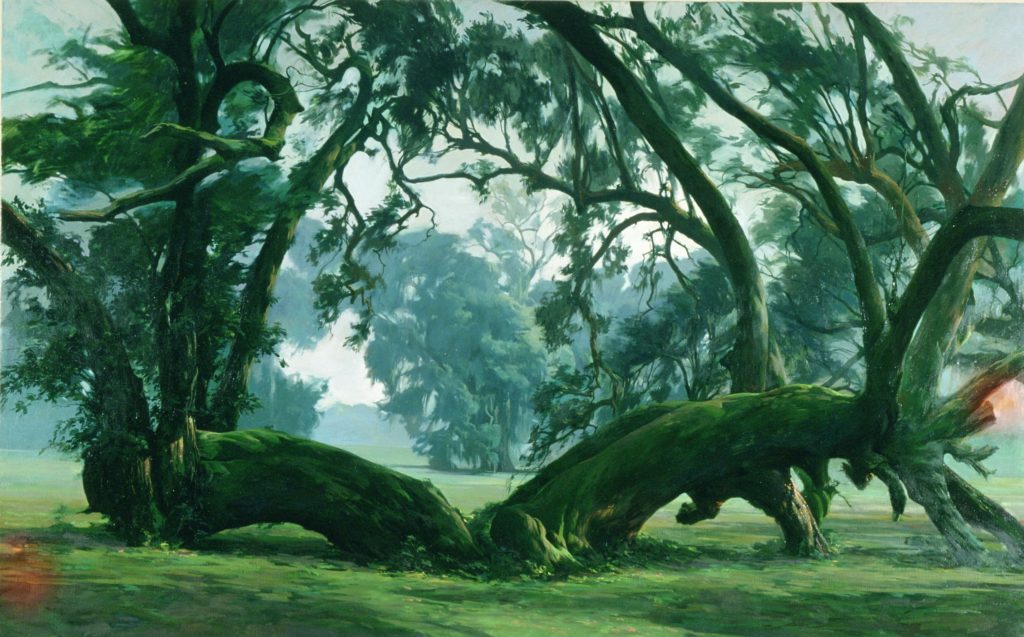 Auseklis Ozols
Born – Strenci, Latvia, 1941
Residence
New Orleans, Louisiana
Louisiana Landscape Location
New Orleans area
Inspiration and Influences
Thomas Eakins, Edgar Degas, Johannes Vermeer, Diego Velázquez
Art Training
Pennsylvania Academy of Fine Arts, University of Pennsylvania, Tyler School of Art at Temple University
Career and Approach to Painting
The New Orleans artist and teacher Auseklis Ozols, founder of the New Orleans Academy of Fine Arts in 1978, is a master teacher and artist who believes the only path to truly expressive painting – with all its required transcendent abstraction – is good drawing and composition. In his own work, Ozols is attracted to the beauties of nature found in simple flowers, in the nuances of a figure, or in the morning light of a hazy Louisiana landscape.
Ozols, whose family fled Latvia during World War II just ahead of the advancing Soviet Army, came to the United States in 1949. After growing up in Trenton, New Jersey, and attending college in Philadelphia, he came to New Orleans in the late 1960s to design an exhibition space at the New Orleans Museum of Art. There, he met and married a New Orleans woman, and the city became his home. Ozols and his late wife, Gwendolyn, set up a studio in New Orleans, but the artist, a three-time winner at juried exhibitions sponsored by the National Academy of Design in New York City, continued to spend time in Philadelphia painting designs and murals and doing commercial art. By the late 1970s, however, Ozols had decided New Orleans was in need of an art school that stressed the classical and more traditional academic methods.1
In 1978 he opened a small art school over an Italian restaurant on Magazine Street in uptown New Orleans. Two years later, a student of his, Dorothy Coleman offered him an entire three- story Victorian building further up Magazine Street as a new home for the New Orleans Academy of Fine Arts. Coleman later became Ozols's partner and the school's president. With classes in drawing, painting, sculpture and photography, students then and now must first master drawing basic geometric shapes, value, shading, one-point and two-point perspective, ancient sculpture, human muscle and skeletal structure, and then life drawing from the figure.
Ozols firmly believes that good paintings start with good drawings. "Drawing," he said in a 2001 interview with American Artist Magazine, "is a search, a looking into the wonderful mysteries of creation and it is a vehicle for personal expression. Whatever we have in ourselves comes out in that drawing. It's miraculous. You can't learn how to paint without learning how to draw. It's as simple as that. Drawing is the substructure, the foundation of all visual arts. It is essential. It's like building a cathedral. You have to build the foundation first, then comes the walls and eventually all the music and decoration and expression come afterwards. But most of all, it has to stand on a foundation. That foundation is drawing."
Ozols described his painting style as Romantic Realism. "I was trained to paint from life, as the French call En Situ and realize now that the human eye sees completely different than the eye of the camera." Ozols' work reflects the Realism of his training at the Pennsylvania Academy and the influences of Thomas Eakins, the world-renowned nineteenth-century realist who headed the Pennsylvania Academy for many years. While at the Academy in the 1960s, Ozols studied with well-known contemporary artists such Marcel Duchamp, Jacques Lipchitz, Robert Rauschenberg and Robert Motherwell and other artists in the Abstract Expressionist movement. "We exchanged ideas on aesthetics and I found that a lot of them fell short," he explained. "People think I hate modern art, but I love an abstract painting as well as anyone else, but I know what the word abstract means. To abstract something means to get to the essence of the essential characteristics of something. That takes study and a lot of knowledge. It's not something quick or facile. If any artist works honestly and there is expression, it is going to come out. It's something you cannot force or fake."
Ozols developed his style of painting during an era when the contemporary art world was more interested in the various avant-garde art movements that came out of the 1960s. "After many years of following contemporary innovation and agonizing over 'style' and 'personal statement' and 'social consciousness,'" he wrote in 2011. "I realized what my true métier was, to look at God's creation and record it to the best of my ability with my God given gifts and to share it with my fellow man. I studied with the most notable and well-known painters and aesthetic philosophers of the sixties, and was constantly aware of all new 'isms' to eventually realize that all 'isms' become 'wasms.'"
Note
1 This profile, including quotations, were based on the author's interviews with the artist for the June 1993 and September 2001 issues of American Artist magazine and from correspondence between the author and artist in August 2011.
"Auseklis Ozols – The Romantic Realism of an Artist and Teacher By John R. Kemp
In his work, the artist should be like God in creation: invisible and all-powerful . . . felt everywhere and seen nowhere – Gustave Flaubert (1821-1880)
Auseklis Ozols is a consummate painter who is drawn to the beauty found in simple flowers, in the nuances of the human figure, or in the warm watery afterglow of a sunset in a misty Louisiana cypress swamp. "The world around me is what fascinates me the most," he once explained. "Nature is found not only in the depths of a swamp but in still lifes, portraits and figure paintings. They're all part of nature and make up the world around us." Ozols' philosophical mind is absorbed by the world's metaphysical shadows, and, at the same time, it is an analytical mind that continues in what Nobel Prize winning writer Saul Bellow once described as the endless search "to find in the universe . . . what is fundamental, enduring, essential."
Ozols's colorful story and journey began in Strenči, Latvia, where he was born in September 1941 during the early years of World War II. His father worked as an agronomist for the Latvian government and his mother was a ceramicist and pianist. The almost genocidal war in Eastern Europe between Nazi Germany and the Soviet Union forever changed life for the Ozols family. In 1940 the Soviets annexed the Baltic republics and began banishing Latvian political officials, professionals and teachers to Siberia. The German army invaded the following year and occupied the country until the Soviets retook the Baltic states in 1944. With their return, Auseklis's father, fearing deportation to Siberia, fled to Germany just ahead of the advancing Soviet army. Trying to reach the Americans and British, they got as far as Dachau in Bavaria where they were detained for a short time and then released. The family waited out the war behind Allied lines, all the while hoping to return to a liberated and independent Latvia. But that was not to be. The Iron Curtain fell across Central Europe. In 1949, after four years in Wurzburg in the American Zone of war-torn western Germany, the family moved to Trenton, New Jersey, where the young Ozols grew up during the 1950s and the heady years of post-war America. In later life, he recalled those early years in Trenton and his introduction to art:
"After a year or two of acclamation and language adjustment, and with the help of excellent public schools, my interest in the arts was born. It was well stoked by the teachers and artists of the Trenton area. The Bucks County and Delaware Valley School of American Painting in the Trenton area was to be my first general influence and guide in my artistic career. After high school, my choice of further education was urged by many to attend the Pennsylvania Academy of Fine Arts [PAFA], the oldest art school in America and the alma matter of my mentors. My aesthetic sensibilities were awakened at PAFA along with the University of Pennsylvania and the Tyler School of Art at Temple University."
In 1969 Ozols' life changed once again when he met Dode Platou of New Orleans who was visiting Philadelphia. The New Orleans Museum of Art (NOMA) had just named her curator of the museum's new Wisner Wing. The two hit it off and she invited him to New Orleans to design exhibitions for the museum. Ozols arrived in the city in 1970 and immediately immersed himself in the city's art scene. He designed a show at NOMA that taught young people about the various forms of modern art. He also worked for the prestigious Koch and Wilson architectural firm, making presentation drawings. Other endeavors included establishing a Salon des Refuses at the gallery of the once prominent New Orleans art collector William Groves. What was to be a one- year stay in the city became permanent when he met and married Gwendolyn Laan in 1972. Soon after, the young couple set up a studio in New Orleans while Auseklis – a three-time winner at juried exhibitions sponsored by the National Academy of Design in New York City – continued to spend time in Philadelphia, painting designs and murals and doing commercial art.
By the late 1970s, however, Auseklis and Gwendolyn had decided New Orleans needed an art school that stressed the classical and traditional academic methods that he had learned at the Pennsylvania Academy of Fine Arts. "We had art schools in the area," he recalled, "but they didn't emphasize certain things I thought were important: the classical disciplines, life drawing, anatomy, color theory, strong courses in design. We've had hundreds of years of great painters working and handing down information and sharing things they had learned. During the latter part of the twentieth century, and especially in the 1960s, most university art schools threw it all out. They started from scratch, and it's very sad. That's the purpose of the academy – to reinstate some of the wonderful gifts passed down to us. Basically, we teach students how to see from nature. Nature is the great teacher. Painting is the art of seeing." Students at the academy are first taught that a successful painting must be technically good, aesthetically pleasing and emotional. "It's a balance of those three," he explained. "After they learn that, then we get down to the serious study of art." You can teach technique, he contends, but not the spark.
In 1978 the Ozols opened New Orleans Academy of Fine Arts in an airy loft above an Italian restaurant on Magazine Street in uptown New Orleans. For two years all went well for the school and for the Ozols. Then tragedy struck twice: First, Gwendolyn was killed in a shooting accident on April 12, 1980, when a next-door neighbor loaded a pistol and accidently fired a shot out his second story window. The bullet went through the Ozols' living room window, striking and killing Gwendolyn. "It was a great tragedy in my life and still is," as he recalled those early years. Yet, he continued to paint and devote his time to the academy and three daughters, Saskia, Aija and Charlotte.
Excerpt from the the book, Kemp, John R. Auseklis Ozols, the Romantic Realism of An Artist and Teacher. New Orleans: Pelican Publishing Co. 2018. Print
Catalogue Raisonné (in Progress)
Auseklis Ozols creating the Latvian Auseklis Star (8 pointed star) with a compass and ruler: