Who We Are:
 Auseklis Ozols is the President of the Ozols Collection as well as Founder of the New Orleans Academy of Fine Arts where he lead as Director, Chief Curator, and Senior Instructor from 1978-2020. He retired from the Academy in 2020 amidst much controversy regarding the future and preservation of the Academy's mission. As archives, documents, drawings and paintings dating back to the 1950's had to be packed and moved during the coronavirus pandemic- the collection was born. Ozols Founded the Academy in 1978 based on the model of the earliest American Museum and Art Academy, The Pennsylvania Academy of Fine Arts. He has worked and taught in New Orleans for over 50 years.  Ozols received a BFA from the University of  Pennsylvania, attended the historic PAFA studio program where he trained under Walter Stuemfig, and received an MFA from Temple University. His work is represented in public and private collections internationally. He has received numerous awards and significant professional recognition. 
In New Orleans, Auseklis Ozols has received the Delgado Award from the New Orleans Museum of Art, the Strength in Age Award, and the Community Arts Award from the Arts Council of New Orleans. He is a highly sought after portraitist, still life, and landscape painter; with work throughout the Gulf South including the Louisiana Govornor's Mansion in Baton Rouge. He is also the author of three Rex Proclomations and has paintings in the permanent collections of the New Orleans Museum of Art, The New Jersey State Museum, and the Latvian Museum of Art in Riga, Latvia where he was born. Ozols is inspired by the beauty that surrounds him and continues to paint the colorful flora and majestic live oaks of Louisiana with unmatched technique, enthusiasm, and flair. For more information and a detailed bibliography as well as in progress catalogue raisonne please visit https://ozolscollection.org/about-auseklis-ozols
Saskia Ozols is the Director and Curator of Paintings at the Ozols Collection: A Museum of American Painting and Pedagogy.  Her area of practice and research is realism in visual art with its contemporary intersections. She has a 20 year record of exhibitions, publications, and curatorial projects devoted to this topic. She has taught at Boston University, Loyola University, Tulane University and other institutions. She holds an MFA from the Museum School of the Pennsylvania Academy of Fine Arts where she also completed the historic studio program with the highest available awards. She studied with painters including Sidney Goodman, Bo Bartlett, Vincent Desiderio, Nelson Shenks, and Auseklis Ozols. 
Publications authored include: Realism, Classicism and the Feminist Voice published by and presented at the Representational Art Conference, Contrapposto and the Techtonics of Gender, presented at the Figurative Art Convention, Beyond the Path of the Peredvishniki: Exploring Intersections in Manner, Means, and Method between Russian and American Realist Painting published by and presented at the London Center for Interdisciplinary Studies' conference on Slavonic and East European Studies, as well as regular contributions to Art Voices Magazine and the New Orleans Art Review from 2005-2008. 
Curatorial work includes two years as the Curator of Fine Arts for the an exhibition hosted by the Louisiana State Archives in Baton Rouge: 40 Days and 40 Nights, Exploring the Resiliency of Louisiana's Artists After Katrina; As Chief Curator for Responsorial, the Contemporary Dialectics of Misogyny at the New Orleans Academy of Fine Arts, As Chief Curator for Winter Sun, Multi-Media Exhibition Moscow, Russia, as Chief Curator and Juror for Persephone's Garden, Images Inspired by Femininity and its Transformative Creative Power, also in Moscow, and as Sole Curator for Xico Greenwald: Paintings, on the Table, hosted by Loyola University New Orleans in 2019. For a complete and annotated list of publications, exhibitions, and curatorial projects please visit https://www.saskiaozols.com
Indra Ozols is the Collections Manager and Secretary/Treasurer for the Ozols Collection.
She is a practicing artist and designer. Her work in the art scene of New Orleans for over 25 years includes Curatorial Associate, Gallery Manager, Human Resources Specialist, Exhibitions Assistant, Studio Assistant, and Artist's Agent. She holds a BFA from the University of New Orleans in painting and drawing. For more information about Indra please visit https://indraozols.com/pages/about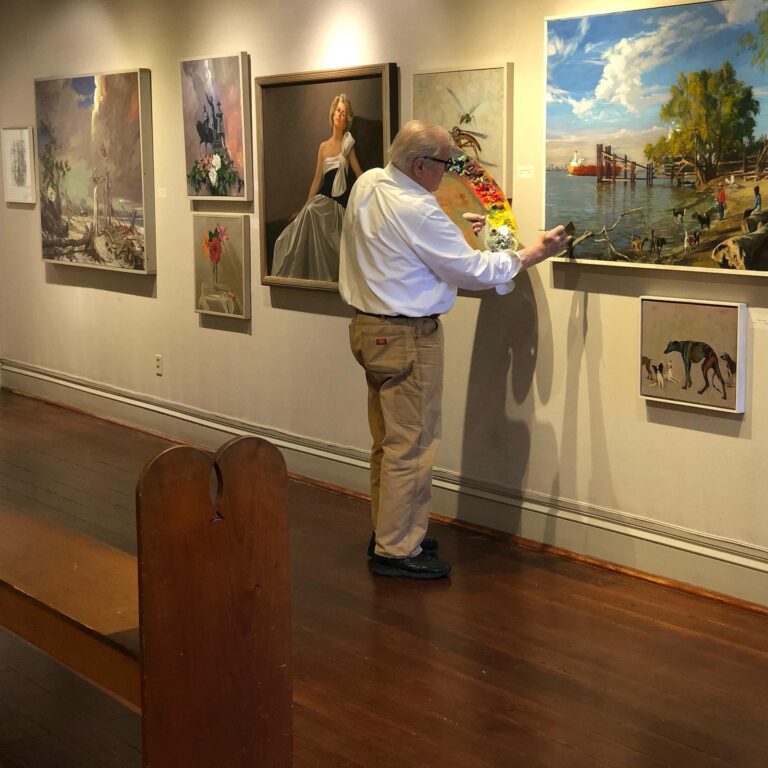 For information regarding rights and reproductions please contact saskia@ozolscollection.org to make an inquiry.