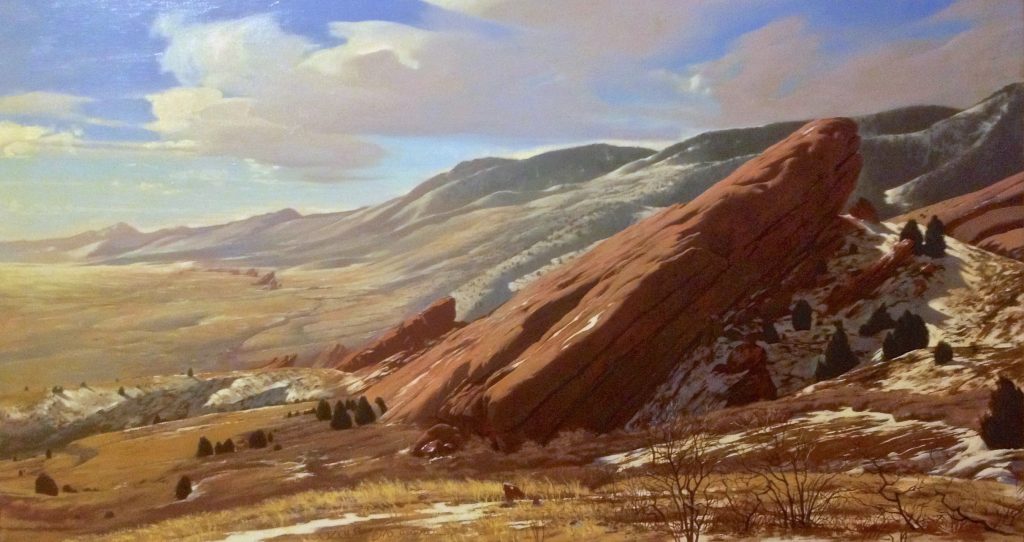 The Autumnal Equinox marks the birthday of realist painter Auseklis Ozols. Ozols is best known for his dedication to preserving, teaching, and practicing observation based painting techniques associated with American Realism.
Ozols shares his birthday with the first official day of Autumn, a rare moment with equal lengths of night and day. He created a painting about this balance entitled, Between the Sun and the Moon. The area in the un-accounted for painting is similar to the 1978 painting pictured above, Red Rocks. Between the Sun and the Moon, depicts both the sunrise and moonset near the Garden of the Gods in Colorado; and was painted on the morning of the Autumnal Equinox in 2005.
Following is a memory of plein air painting on the anniversary of his birthday:
Between the Sun and the Moon was painted on site, en plein air, in the rolling hills near Elisabeth, Colorado. Our group evacuated there in the days following Hurricane Katrina, and spent time exploring for painting spots and sketching. The location for this painting was chosen after days of driving along endless roads, looking, studying, and observing the landscape.
On a narrow dirt road atop a mountain, with steep sloping plains leading downward in both directions, a place was chosen. On one side of the mountain, the moon was strong, on the opposite side, the first blueish glow of dawn was hinting illumination. It was windy, dark, and perfectly chilly. As usual for when a painting spot is realized, the car stopped short in an instant to a complete halt.
My sister, our dogs, our father jumped out of the car. As we inhaled the fresh mountain air, the first breath of Autumn, we understood why this pre-dawn adventure was the birthday present he asked for. Dogs bounced from one side of the road to another. The wind blew and balanced the split second sight of both yesterday and tomorrow.
I painted the moonset, and my father painted the sunrise. Of course, my subject disappeared before I was able to finish the painting. The sun, as always, rose to displace the moon. I abandoned my easel in frustration and walked up to the top of the hill, and watched my father articulate the rising sun on his birthday morning. I listened as he spoke narrating every stroke of paint and color mixture, How he used a different imprimatura applied when we arrived for this particular light. He explained how the colors are different in Colorado compared to New Orleans as result of the variance in humidity, atmosphere, and altitude. I sat in the cool grass, with my beloved Great Dane. We enjoyed the wind, the view, the painting lesson, and the first rays of light on the equinox.