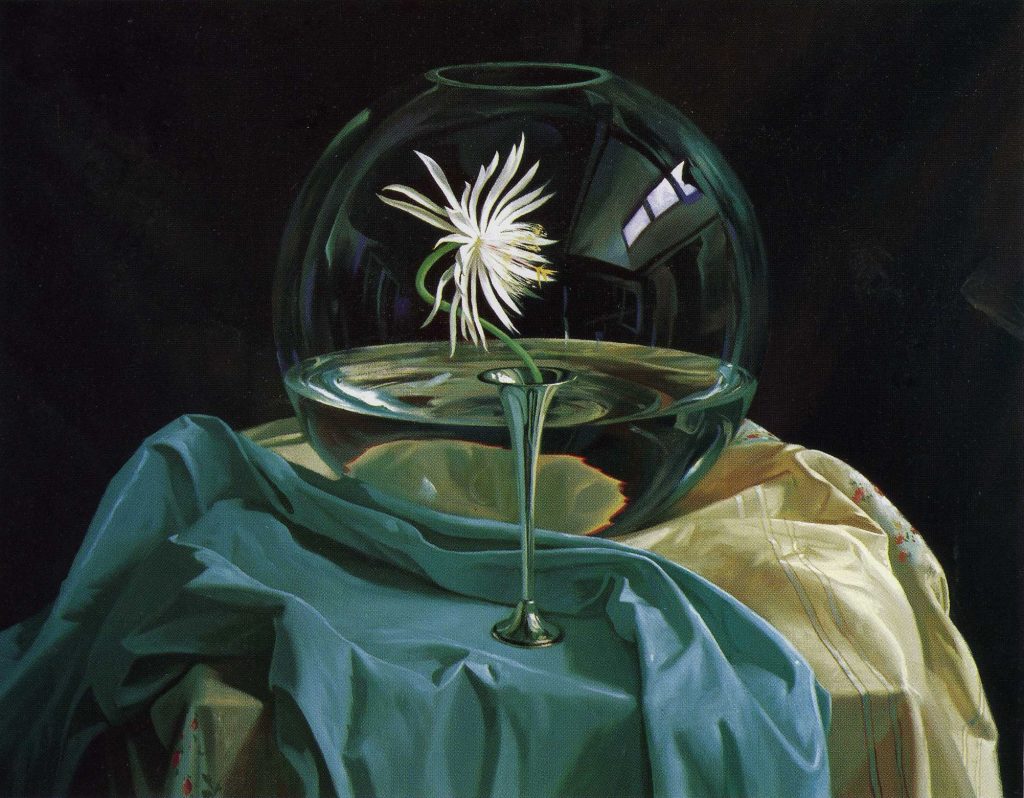 This painting depicts a night blooming cereus flower arranged as the focal point within a composition. The picture addresses the symbolism and depiction of night, the movement of the moon as it contrasts with the sun, and celebrates universal mysteries. Silvery hues shine against a pitch black backdrop and jump forward with the lightest lights reserved for a midnight bloom that takes center stage.
The half filled glass bowl represents the moon; The swirls in the water depict a golden spiral (or nautilus shell in perspective if you look closely) which refers to the universe. A silver vase stands in front embracing a fully open night blooming cereus flower. The flower is placed on glowing gold scalamendre silk aside sky blue antique silk velvet. The sheens, colors, reflective qualities and contrasts offer juxtapositions with symbolism.
The flower bloomed at midnight and was immediately picked and rushed to AO's Girod st studio downtown in the CBD. Ozols had a group friends waiting on standby for the event.
*The plant was a a cutting from Walter Anderson's plant, courtesy of one of his late wife's friends and later one of Ozols' students and who wrote her thesis on Walter Anderson and had deep family ties to the Gulf coast. She was given a cutting as thanks for her research , and passed one on to Ozols. The Ozols family still has the the plant.