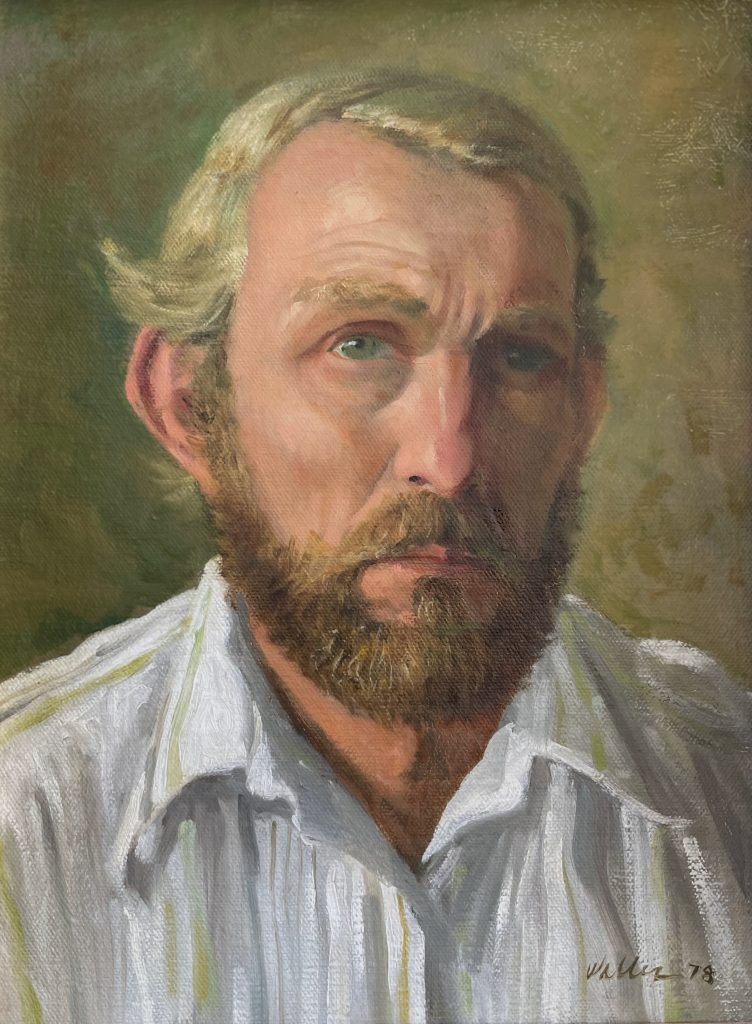 Auseklis Ozols and Dell Weller met in the French Quarter, where Weller kept a studio and worked on Jackson square as a portrait artist. They were introduced by a mutual artist friend at a cafe/bar near the square. Weller was a highly sought after painter, printmaker, and portratist. Weller shared a love of opera with Ozols, and AO invited him to his home to listen to his collection of vinyl records. They would listen to opera together, open oysters in the back yard of Ozols' New Orleans Dufossat Street home and discuss art. Bobby Seago, a mutual artist friend also attended these gatherings often with his banjo. They would all sit in the back yard with a burlap sack of oysters, opera blaring over the record player, yelling about art. The smell of fresh bread made by Ozols' late wife always wafting through the loud clinking of hand carved oyster knives and music.
Ozols invited his sister in law Magtillt Laan, M. Dell Weller, Bobby Seago, and Charlie Richards as co-instructors for NOAFA. Weller and Laan accepted. Ozols, Laan, and Weller had similar artistic training, professional practice, and teaching methodology. All three were classically trained. His approach differed slightly from Ozols' as Weller was trained and inspired in the New York School while Ozols and Laan took inspiration and methodology from the Philadelphia School.
Weller studied at the Art Student's League in New York. and often spoke of inspiration by ASL artists such as William Merritt Chase. He taught at the N.O. Academy from 1978-near his death in 2017. https://www.nola.com/news/article_2fa2b9b3-15d8-5034-8b2b-3101e7ab9522.html
Ozols and Weller were painting colleagues, often trying to out-do one another. Both had big personalities-always competing to command the attention of everyone in their presence. The Wednesday lunch table at the academy was something to behold after each of their morning classes.
Weller's students are accomplished and practicing artists working today in New Orleans. Weller's brushwork, intensity, piercing stare followed with a smile and an arty remark such as " When are you finally going to pose for my portrait class?" or: " Get some bigger brushes" will always be remembered.
Both Weller and Ozols taught for decades at NOAFA; with waiting lists for their classes that students and art lovers would get in line for on registration day as early as 3 am with Bloody Mary's in hand.
Dell Weller's daughter, Gretchen Weller Howard https://www.nola.com/article_db86ef94-6afe-5189-ae6d-5c738574e1dc.html is also a highly sought after painter and offers this recollection:
"Dad always said you should never be bored if you have a pencil in one hand and could draw the other and I think I took this to heart. Some of my earliest memories are of visiting his studio on Toulouse St in the quarter. The smell of turp, the hushed atmosphere and soft light were and still feel romantic and nostalgic to me…."