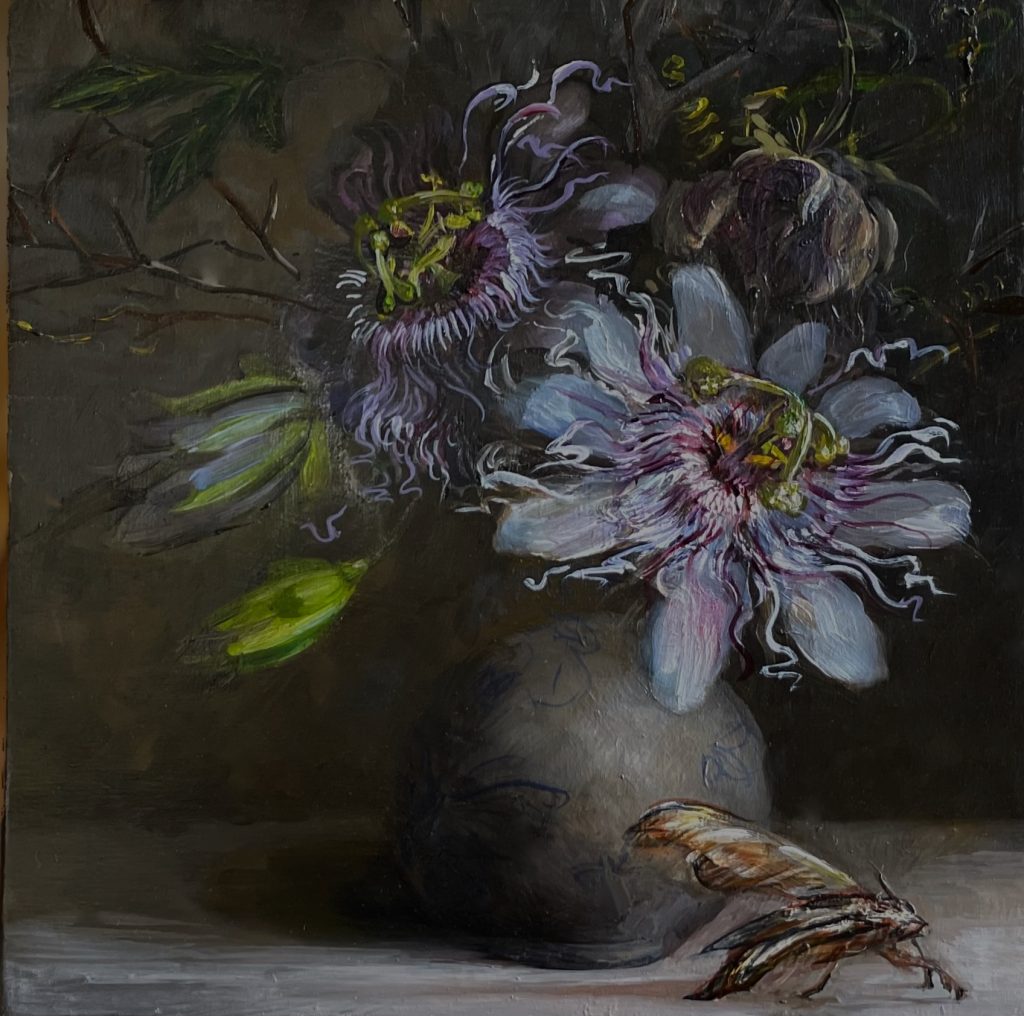 Saskia Ozols, Arrangement with Passion flowers, Thorns, and Moth with a Butterfly Vase. Oil on Panel, 2022
Please Join us on White Linen Night, at Le Mieux Galleries to view Saskia Ozols' new work. The exhibition, And Now For Something New Part IV, will be on view for the month of August with an opening reception August 6th from 5-10 pm.
Saskia is the Collection's Founding Curator. She has a three decade record of exhibitions, publications, and curatorial projects. Her work highlights intersections of historical painting techniques with contemporary ideologies.
Saskia teaches at Loyola University New Orleans; Painting I, II, and III as well as Drawing I, II, and III in alternating semesters. She is a native New Orleanian and has been painting her entire life. For further details on her work and experience please visit https://www.saskiaozols.com/about/
This current series of pandemic paintings celebrate the local flora of New Orleans and the Gulf South. Small gems of color, the compositions present blooms of the southern garden with generations of vessels and objects collected around the world. The intersection of atmosphere with an object and how we perceive the accompanying relationships of value, color and form allow endless contemplation.
The simple beauty that surrounds us exists anywhere we look if we open our senses; in flowers, colors of the air, the light or darkness of the sky. As we allow the experience of inspiration we enter a unique intersection between art and reality. These intersections are abstract, infinite, and come alive through a dialogue of differences.
Each of these paintings took two seasons (years) to complete, and each of the flowers depicted in this series are from my own garden. Before painting, I planted, tended, nurtured, and grew each blossom.
They are all strictly from direct observation, meaning I painted directly from the subject as it was in front of me. Working from our human, natural perception is quite a different thing than working from the perception of a machine such as a camera or a computer.
Painting from direct observation creates a certain affect not otherwise possible that takes more time yet also allows a certain depth of atmosphere, iteration of experience, as well as a more thorough exploration of each form.
Once the flowers were ready Iwould race through the process often beginning one flower and then replacing it with another and painting it once it got to the same stage of development and position as the one I began. I would do this for the duration of the season of that particular flower, and then when the plants dropped all the blossoms begin the next one, and work on the vase/vessell throughout the year until the particular grouping of flowers bloomed again the next year.
The multiple layers of paint, color, impasto and glazing would not have been possible without this duration of work and drying time of each layer of oil paint. I hope these works will offer opportunities for contemplation to others as well.
Viewing a work of art in person provides an opportunity to encounter and contemplate meaning in these subtleties. We hope you will join us on August 6th at Le Mieux https://lemieuxgalleries.com